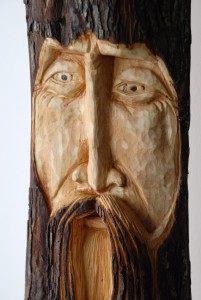 I work with wood, both as a craftsman and as a teacher. I have a passion for wood, for its texture and also because it makes me feel close to nature. For my own part I am happiest when using Scottish wood to carve in a way which exhibits the natural curves and flaws of the wood as in nature. It's important to me that the materials I choose are all every one of them sustainable, and thus my work plays its part in keeping our outdoors healthy.
When I hold classes I have the chance to share my passion and traditional skills of wood carving with my students. My teaching sessions are held entirely in the outdoors in oak woodlands near Aviemore, and in them I use only handtools, thus imparting knowhow that can be used wherever my students may go.
I have carved wood for many years and for me it is a welcome escape from the stresses that we all know in modern life. Perhaps especially I love watching the process from start to finish of a piece of wood becoming … whatever I wish it to be! It keeps me happy and it is this I enjoy sharing.
My work is very varied, from small to large – have a look on the bespoke page.