Axe Throwing
Axe throwing in Scotland for corporate events, family fun, stag and hen parties, Highland Games, film and theatre… the possibilities are endless.
Release those wedding jitters and hire Wooden Tom to come to your wedding venue and teach your guests how to fling axes around.
Great unusual outdoor activity, situated in the Cairngorms National Park near Aviemore. Fancy spicing up an event with something unique, fun and memorable? Axe throwing is the thing for you! People will receive expert tuition on how to throw two types of axe.
Come to Tom, or Tom can come to you bringing all tools and equipment with full public liability insurance and first aid training.
Age limit:  11yrs
What on earth…?
Wooden Tom is a self-taught axe-thrower and makes and uses different types of axe to throw. While these skills were highly sought after centuries ago for hunting (indeed both animals and people!), today they are thankfully confined to the realm of unusual entertainment!
Have a look at the videos below to see Tom in action with axes and war clubs.
Families, corporate groups, birthday parties (all ages!) and stag and hen parties all welcome.
Time: 1.5-2hrs 
Cost:
£150 1-15 people
£200 16+ people
An extra £50 plus mileage will be added for Wooden Tom to comes to you.
Please enquire about prices for groups or parties on the contact page.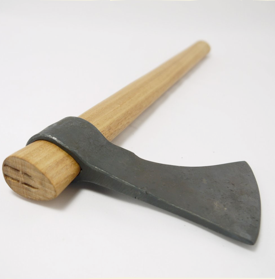 Throwing tomahawk
A specially designed tomahawk from America for the purpose of single handed throwing at a target.
Weight (1.6lbs), including straight grained hickory 48cm which is a knock-fit for easy refitting or replacing.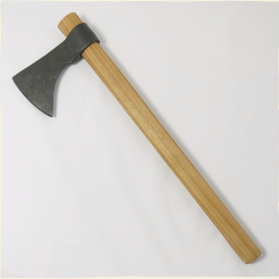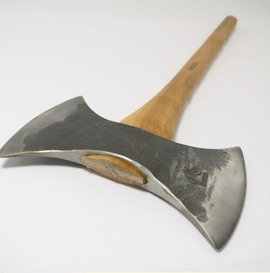 Wetterlings Double bit throwing axe
The Wetterlings Double-Bit Throwing Axe is a well balanced axe designed to be thrown two-handed at a large round wooden target.
This Swedish axe weighs 2kgs (4.5lbs) with a 15cm cutting edge designed to stick in a target.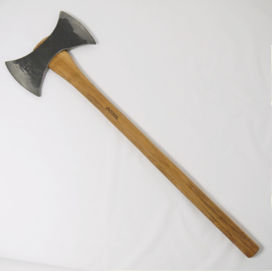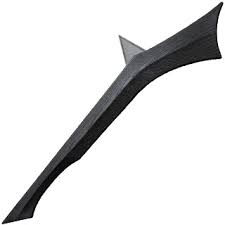 Coldsteels Gunstock War Club 
Used by Native Americans in the late sixteenth century (as seen in the movie Last of the Mohicans).
These were made of specially chosen straight grain hard woods like Maple, Ash, Oak, Hickory or Hornbeam and weighed from two to three pounds. They hit with remarkable force and proved to be extremely lethal weapons as their hitting power was often enhanced by the addition of a short lance point or one or more knife blades. In fact, the Gunstock war club became so popular it soon migrated West to the Great Plains and even the Pacific coast where it endured as a weapon into the 1880's and as a ceremonial and dance weapon to this very day.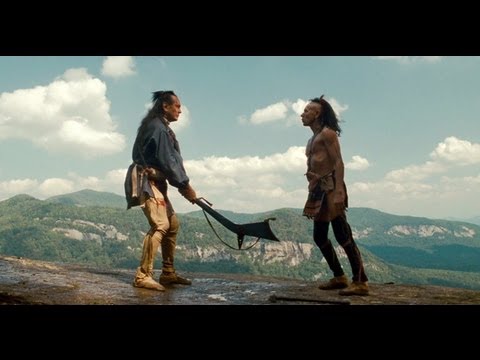 Wooden Tom is proud to have worked with…